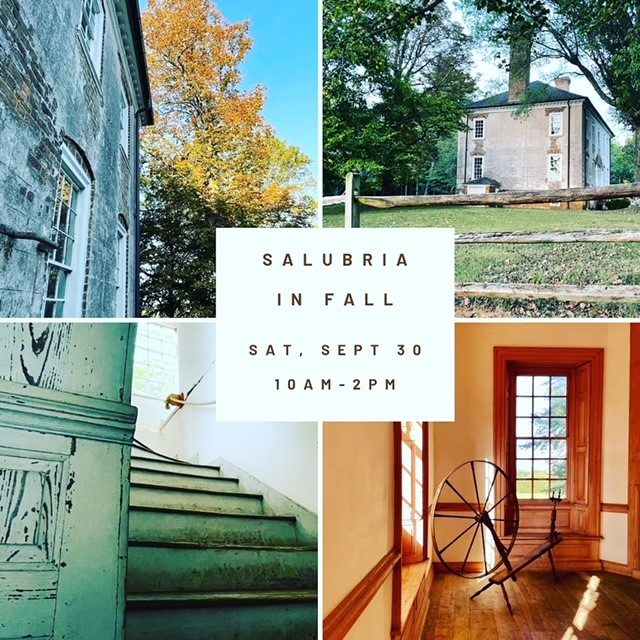 New Date! Join us on Saturday, September 30 in Virginia's beautiful Piedmont at the foothills of the Blue Ridge Mountains for the rescheduled Fall Open House at Historic Salubria!
RSVP Here!

From 10am to 2pm, enjoy tours of Historic Germanna's 1757 architectural gem and the grounds, plus crafts and activities for the whole family, refreshments, and meet members of our Germanna Archaeology team who will share insights into this year's exciting excavation season of the ruins of Alexander Spotswood's home, known as the "Enchanted Castle," and the probable sites of Spotsylvania's original courthouse complex and the 1714 Fort Germanna.
We'll also welcome friends from area organizations!
*Culpeper Battlefield Tours
*Friends of Cedar Mountain Battlefield
*Old Rag Chapter of Virginia Master Naturalists
Historic Salubria is only open by appointment and seasonally – Don't miss the opportunity to see this 1757 Georgian historic house and Culpeper's oldest brick structure!
*This is a rescheduled date. Anyone with previous reservations for the September 23 event will be honored. Event is rain or shine
Historic Salubria – 19173 Salubria Lane Stevensburg, VA 22741
RSVP Now!
$10 suggested donation
About Salubria
Historic Salubria is an 18th-century (ca. 1757) Georgian-style manor house built for the Reverend John Thompson, rector of the Little Fork Church from 1740 to 1772, who married the widow of Lt. Gov. Alexander Spotswood, Butler Brayne Spotswood. The house received the name Salubria, Latin for healthful, from a later owner, James Hansbrough, in the early 1800s and has been known by that name since that time.
Salubria's exterior is distinguished by unusually tall, corbel-capped chimneys enclosed at each end of a hip roof. The house has identical front and rear facades and is built of brick laid in Flemish bond. Three sides of the house are currently stuccoed in a manner simulating cut stone, a popular Greek-revival styling update in the 1830s. The interior of the house effuses character hearkening back to another time, with elaborate panelling and woodworking throughout. Salubria was placed on the Virginia Historic Landmarks Register in 1969 and on the National Register of Historic Places in 1970.