Support Historic Germanna
with your planned gift!
As the 501(c)3 non-profit Historic Germanna grows and improves over the upcoming years, we will continue to carefully steward our resources and partnerships. Only you can make our work possible, and we encourage you to take part in Historic Germanna's planned giving program.
We believe that taking part in Historic Germanna's planned giving program is a prudent strategy to help the Germanna legacy thrive for future generations.
Read our overview booklet to find out different ways your tax-efficient contribution can make an impact that will affect future generations: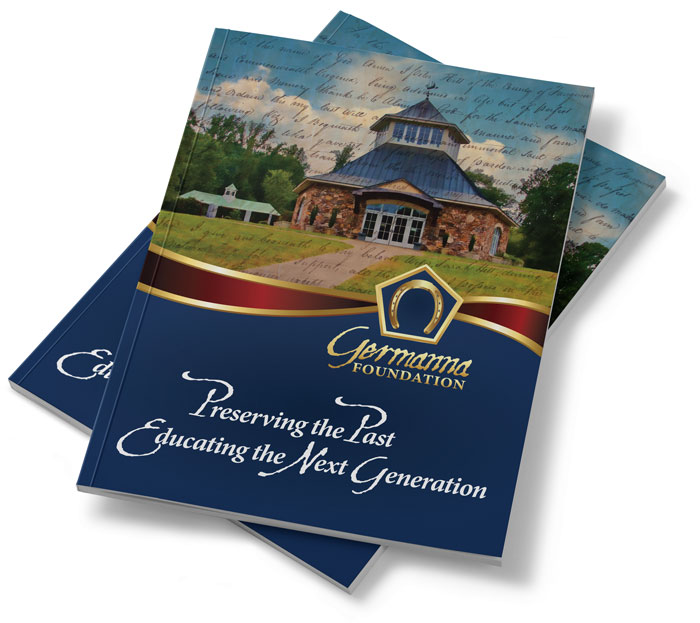 The key to our past accomplishments, current successes, and our promising future is your fully committed support as a generous member, donor, or volunteer.
Germanna is about more than discovering Fort Germanna, stabilizing the Enchanted Castle, expanding our 150,000-descendant genealogical database, conserving Siegen Forest on the Rapidan River, or saving Salubria as a beautiful architectural showpiece.
Sharing the stories of Germanna, a cornerstone of our nation's history, will help all who hear them discover insights and understanding to build their own futures while honoring our historic heritage.
Just as each stone contributes to a strong foundation, you are part of building Historic Germanna's legacy for all Americans.
Planned Giving and Our Germanna Legacy Society
When Ernst Flender gave oil stock in 1956 so that we could buy 270 acres of the Germanna Settlement, he could not have foreseen what his gift would do over the course of 60 years. Your planned gift to Historic Germanna will have a meaningful impact for generations to come. Legacy giving does not require a large income or vast estate. Legacy giving only requires a thoughtful intention to make a difference by identifying Historic Germanna in your will or estate plan.
About our Legacy Society
Those who remember the Historic Germanna through a will, trust, designation or other planned gift, are invited to join in the Germanna Legacy Society. Too often, these gifts are unrecognized because we are unaware of these special gifts until the donor has passed away. The Germanna Legacy Society provides a way to recognize and thank donors during their lifetimes, and ensure that your wishes are properly documented.
Involvement in the Legacy Society gives you the opportunity to enjoy the company of others who, like yourself, care about leaving a legacy to protect and strengthen this 300 year-old community.
You may choose to remain anonymous in your philanthropy. However, participation in the Legacy Society can be an inspirational experience, and may encourage others to look toward the future and how they too may have an enduring impact on the causes they care about.
Only a statement of intent to leave a gift to the Germanna Foundation is required. No documentation of gift amount or type is necessary. Germanna Legacy Society members may designate the use of the distributions from their future gifts, or may leave the distributions to the discretion of our Board of Trustees. A Germanna Legacy Society gift may be used to establish a new fund or may be added to any of Historic Germanna's existing funds.
Benefits of Legacy Giving
Germanna colonists came to America to plant their families on American soil. We are most grateful for that legacy gift 300 years later. Legacy giving offers us a way to demonstrate gratitude to our forbearers and love for generations yet to come.
Benefits of joining the Germanna Legacy Society include:
A relationship with Historic Germanna and other donors during your lifetime.
A role in determining how your legacy gift will be used, and how it can encourage others.
Satisfaction in knowing your legacy will make a difference to the 300 year-old Germanna family of families
Special recognition in newsletters and annual reports, unless anonymity is desired.
Invitation to the Board of Trustees Reception in July and other special donor events.
Some planned gifts can reduce your tax burden during your lifetime, such as gifts of appreciated securities, just as Ernst Flender did in launching the Germanna Foundation in 1956.
Ways to Give to Historic Germanna
Annual IRA Gift
Each calendar year, you can reduce your taxes by making a gift from your IRA to Germanna. If you are 70 1/2 or older you can contribute up to $100,000 annually. Your contribution will count towards your annual required minimum withdrawal.
Cash
Cash gifts are the most common form of charitable gifts because they are simple and easy to deliver and may result in a charitable tax deduction for the year given. You can choose to make a one-time cash gift and/or fulfill pledges on an annual, semi-annual, or quarterly basis.
Employer Matching Gifts
Many employers match their employees' gifts to charities. Please check with your employer. This may be a way to double or even triple your contribution. The Germanna Foundation's nonprofit tax ID # is: 54-6048585.
Securities
The Foundation accepts stocks or other securities as donations. By contributing a long-term appreciated stock or other security you may avoid capital gains taxes while taking a charitable deduction.
Tributes and Memorials
These gifts are a great way to honor and pay tribute to an individual or celebrate an occasion, such as an anniversary, birthday or new family member. The Foundation informs the honoree (or their family) of the gift with a note (amount is kept confidential) showing that you care not only about them, but also about the future of your community.
Planned or Deferred Gifts
Bequests
Bequests are outright gifts to Historic Germanna through a will or trust. For your IRA, 401(k), 403(b) \life insurance or bank account contact your custodian, insurer or bank and designate Historic Germanna as a full, partial or contingent beneficiary. Charitable bequests to the Foundation can also be included when executing a new will or added to an existing will through a codicil. You may leave an unrestricted or restricted bequest of cash, property, or a portion or the entire residue of your estate.
A bequest is a gift from an estate after his/her death, usually described in the donor's will. Charitable bequests are generally deducted from the overall value of the estate and may decrease or eliminate estate and/or inheritance taxes levied by state and federal governments.
There are several types of bequests that are possible:
A contingency bequest provides for a donation to Historic Germanna only if your spouse does not survive you.
A remainder bequest allows a portion of your estate to be set aside to provide income for a surviving spouse for a period or lifetime.
A residuary bequest provides that other expenses and bequests be honored prior to the donation to Historic Germanna.
If you already have a will, your attorney can create a codicil, or amendment to the will to accomplish any of the above.
In many instances the simple insertion of a phrase such as that below can create a living legacy:
 "I, (name of benefactor) , bequeath to the The Memorial Foundation of The Germanna Colonies in Virginia, Inc. a not-for-profit corporation incorporated under the laws of Virginia with principal offices in Locust Grove, Virginia, the following (sum, percentage, or property)."
Life Insurance
Gifts of life insurance allow a donor to provide for beneficiaries, achieve substantial tax savings and make a larger gift than might otherwise have been possible.
You may contribute a paid-up policy that you or your heirs no longer need by naming "The Memorial Foundation of The Germanna Colonies in Virginia, Inc." as the irrevocable owner and beneficiary.
In this manner there may be an immediate tax deduction and a reduction in the total amount of your taxable estate. Life insurance proceeds pass immediately to Historic Germanna without delay of probate or estate handling.
Even if your life insurance policy is not paid-up, if it has an immediate surrender value, you may derive an immediate benefit by giving. Historic Germanna will then obtain the current value from your insurance company.
Your attorney and/or tax advisor can share other means by which you can gain tax savings by obtaining a new insurance policy with The Memorial Foundation of The Germanna Colonies in Virginia, Inc. as the beneficiary or assigning the ownership of a policy to The Memorial Foundation of The Germanna Colonies in Virginia, Inc. and continuing to make payments.
Real Estate
Gifts of appreciated real estate such as a home, vacation property, or undeveloped land may be accepted. Gifts of this nature may allow a donor to avoid tax liability.
Retirement Plan Assets
By naming Historic Germanna as a beneficiary of your retirement account, you maintain lifetime control of these assets which pass to Historic Germanna upon your death. Your estate may be able to avoid certain income and estate taxes.
All of the above is not intended as legal or tax advice. Prior to making a charitable gift you are advised to consult your attorney, accountant, and/or other financial professional for advice with respect to legal and tax-related matters.
Income-Generating Gifts
Charitable-Remainder Trusts and Gift Annuities are methods of making an irrevocable gift of assets during your lifetime that will ultimately benefit Historic Germanna while providing income during your lifetime and/or your heirs' lifetimes.
Because appreciated assets such as stocks or real estate can be protected from taxes, these approaches may benefit the donor while providing income for a period of time to one's heirs.
Because state laws may impact the preparation of these instruments, it is important to seek local legal counsel to provide the maximum tax savings and avoid errors that may impact the gift transfer.
–
Through planned giving, we can continue to explore and to preserve historic Salubria. We can enlarge our archaeological staff to expand the Germanna Archaeology program. We can create interpretation along the Siegen Forest Trails and increase our programming for children and young adults with an education specialist at the Fort Germanna Visitor Center. We can form strong partnerships with other organizations, both local and international. Your investment in Historic Germanna can generate a legacy that will last forever.
Thank you,
Historic Germanna Board of Trustees
Contact Historic Germanna at 540-423-1700 or fill out the below form for more information:
Yes, I'm interested in learning more about making one of the above gifts to Historic Germanna.