MISSION STATEMENT-The Germanna Foundation tells America's story of liberty through the frontier experience of her settlers and descendants using archaeological, historical, and genealogical research and interpretation.
The People.
Germanna's history encompasses the lives of Indigenous peoples, English colonists, German immigrants and their descendants, and African and African American communities.
The Places.
The Germanna region was a confluence of Indigenous, African, African American, English, and German cultures and later played a pivotal role in the American Civil War. Today, this region of Central Virginia lies between bustling cities and the Blue Ridge Mountain and is a crossroads of history and culture, offering opportunities to share a unique part of Virginia's history that continues today.
Their Stories.
Germanna has many stories to tell, from Indigenous use of the land to the migration of German immigrants to the experiences of African and African Americans; our continued research and collaborations with scholars, community knowledge-keepers and cultural advisors are how we develop a deeper understanding of the past to share with visitors and stakeholders.
Our Historic Legacy
At Historic Germanna, we recognize the immeasurable value of our history and its power to unite communities.
Through our extensive Germanna Records publications, Visitor Center and Library, we continue to share the stories of the remarkable people and groups who found homes and built lives in the vibrant community we proudly call Germanna. Moreover, our dedication to preserving our properties remains unwavering. We understand the significance of these historical treasures and strive to safeguard them for you and the generations yet to come.
Our Resources
Historic Germanna connects, engages, and inspires a deeper understanding of the past through the places, research, and stories we share with the multiple communities we serve.  Our resources include:
Brawdus Martin Fort Germanna Visitor Center,  Research Library & Memorial Garden, Orange County

Seigen Forest Recreational Trail System  & Rapidan River Public Access, Orange County

Hitt Archeology Center & Archeological Sites, Orange County

1714 Fort Germanna

Enchanted Palace

Spotsylvania Courthouse

Gordon Farm and Plantation

Historic Salubria (1757), Culpeper

Peter Hitt Farm (1800), Fauquier County
The New Historic Germanna:
The more you look, the more you find.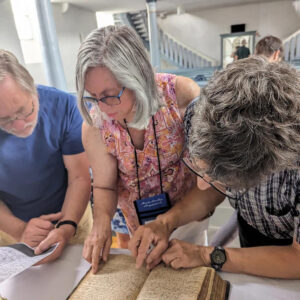 Get to know the new Historic Germanna, where the more you look the more you'll find.  We connect communities with Virginia's past and present through historic, natural, and cultural resources.  
Formerly the Germanna Foundation, we are now known as Historic Germanna to more effectively convey the depth and breadth of experiences available through this public history gem in Central Virginia.  Along with our name change, we also developed a new look and logo. The logo retains the iconic script font and pentagon design representative of Fort Germanna and now takes the shape of a compass. The compass symbolizes our commitment to guide Historic Germanna outward, forging deeper connections among multiple communities and fostering a shared understanding of our intertwined histories.  
Our organization's history encompasses the lives of Indigenous peoples, English Colonists, descendants of early German immigrants, and African American communities. Through our varied programs, we serve multiple communities including outdoor recreation and conservation, education, descendants and genealogy, archaeology, historic preservation, and tourism. Indeed, Historic Germanna provides many ways to experience little-known aspects of Virginia's history. 
At Historic Germanna, we are about uncovering and deepening our understanding of the past through archaeological digs, nature trails, tours, programs, research, exhibits, and more.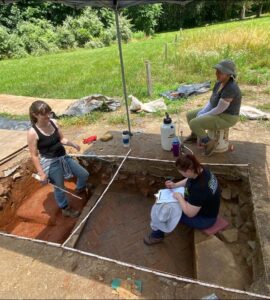 Dig deeper and find YOUR connection with Historic Germanna!