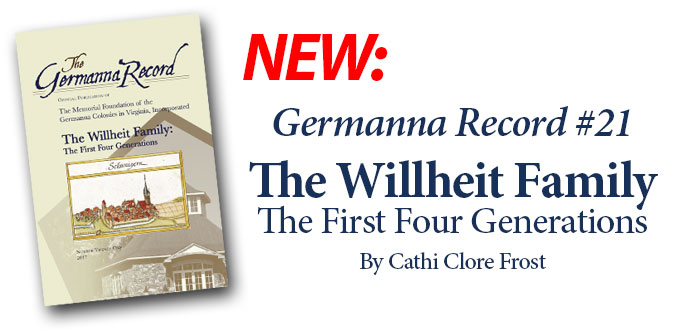 Now available to purchase via Amazon or by calling the Germanna Foundation is our latest Germanna Record, #21, called The Willheit Family: The First Four Generations by Germanna Foundation Trustee and genealogist Cathi Clore Frost.
This fully documented and annotated book with 660 pages of rich, in-depth Willheit genealogy research that is invaluable for Germanna Second Colony research as it includes not only the Willheits many of the 1717 and later families that came to the Robinson River Valley and intermarried with Willheits. With index.
The cost for this very large book that is packed with genealogy information is $54.
Call the Germanna Foundation, 540-423-1700, Monday through Friday from 10 am to 4 pm to purchase the book or buy the book on Amazon: