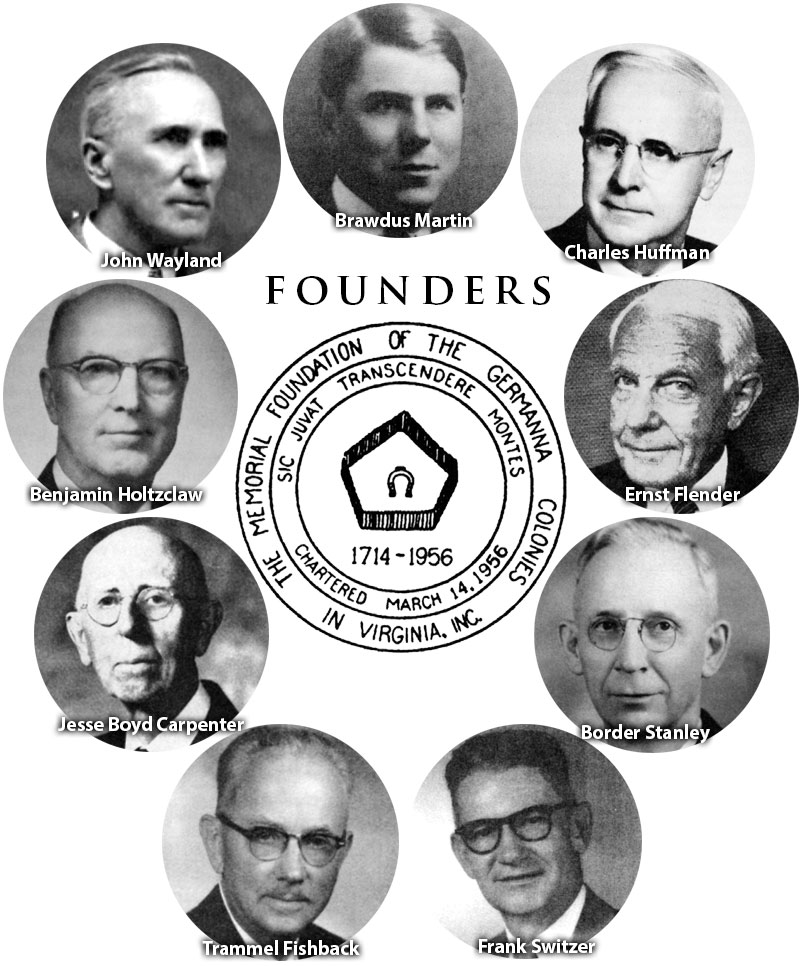 The inspiring history of the Germanna colonies lay nearly forgotten for 200 years.
Threads of awareness emerge in the historical writing of professor William J. Hinke c. 1920, in an inquiry to President Calvin Coolidge from Müsen, Germany, in 1927 about descendants of the 1714 emigrants from that village, in the Reformed Church's commemoration of its 220th anniversary at Germanna in 1934, and in the annual Picnic Parties of Germanna descendants that R. Brawdus Martin, a Kemper descendant, organized from 1949-1955.
From Brawdus Martin's group emerged the two principal founders of our Germanna Foundation, the respected Charles Herbert Huffman and John Walter Wayland.
Both men held doctorates from the University of Virginia, and were professors at Madison College in Harrisonburg, Virginia, now James Madison University. Wayland's many published books included the textbook from which all Virginia schoolchildren learned their Virginia history for many decades.
In a wonderful roundabout way that involved Dr. Huffman's letter of congratulations to the Nikolaikirche (St. Nicholas Church) in Siegen upon its restoration after World War II bombing damage, this scholarly duo were connected with Ernst Flender, a successful banker in New York  who was a native of Siegen.
Mr. Flender became so interested in saving and telling the story of the Germanna colonies that he provided the know-how to create a non-profit organization incorporated in the Commonwealth of Virginia, The Memorial Foundation of the Germanna Colonies in Virginia, Inc. That is still the official name of what we all call the Germanna Foundation today.
Next, Mr. Flender provided $10,000, a very large sum in the 1950s, to enable the Foundation to purchase the 270 acres of the original Fort Germanna tract along the Rapidan River. This they named Siegen Forest. It is the site of the R. Brawdus Martin Fort Germanna Visitor Center today.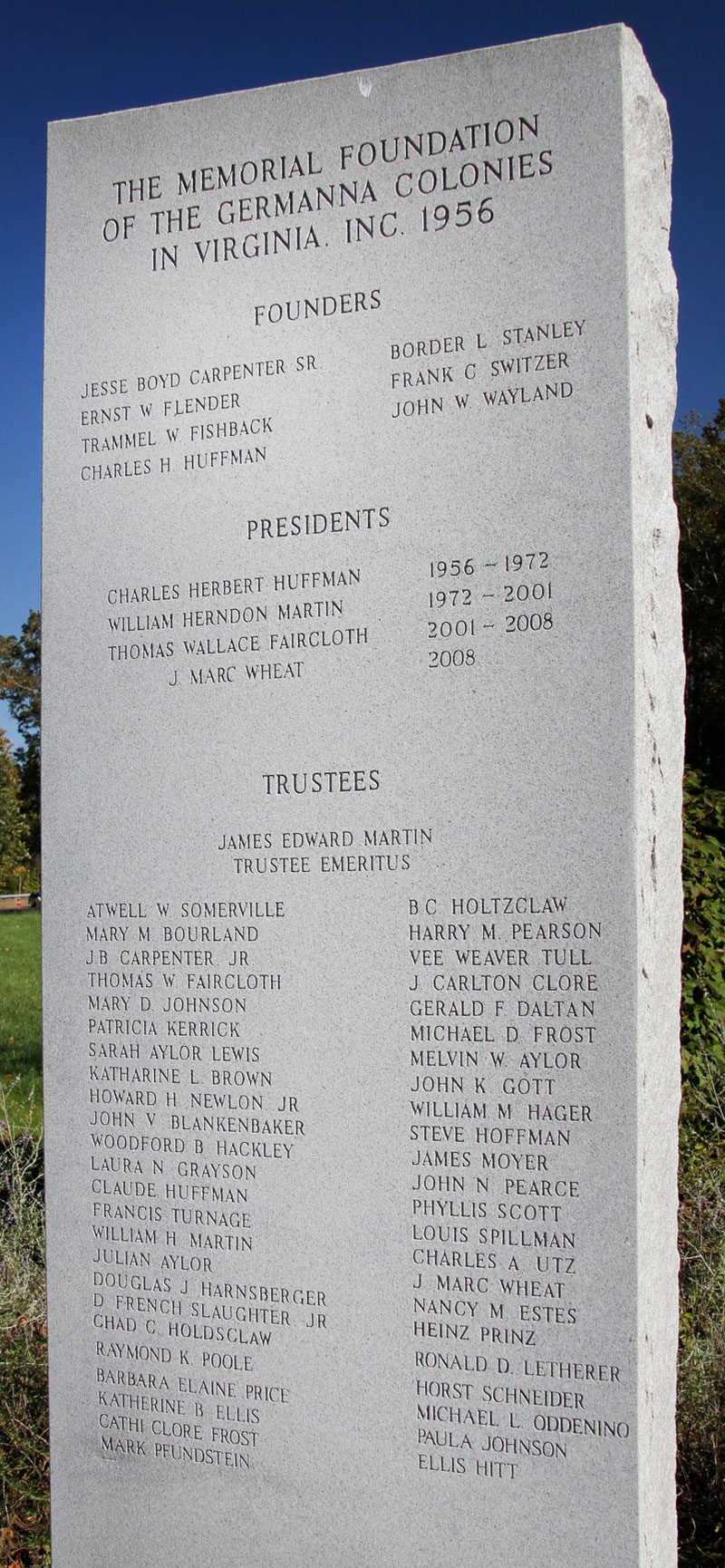 At its first annual meeting in November 1956, the original board (Huffman, Wayland, Flender, Border Stanley, Trammel Fishback, Frank Switzer, and Jesse Boyd Carpenter), expanded their membership to add Benjamin C. Holtzclaw, Professor of History and Dean of the Graduate School of the University of Richmond, who was an experienced genealogist.
Holtzclaw, Huffman, and Wayland became a dynamic trio that researched and published half a dozen books that became the foundation of the Germanna Record series that now numbers 21 volumes.
Holtzclaw's Germanna Record No. 5: Ancestry and Descendants of the Nassau-Siegen Immigrants to Virginia, incorporates documentary research by Ernst Flender's brother Emil Flender in Germany, and remains an invaluable resource today.
And so it is that today, on Founder's Day, March 14, Germanna salutes its founders, and especially R. Brawdus Martin, Charles Huffman, John Wayland, and Benjamin Holtzclaw who made it possible for us to discover our own proud Germanna heritage and tell the story of the Germanna immigrants to Virginia's frontier in 1714, 1717 and beyond.
— • —
Consider making a donation in honor of our founders and Founder's Day to support the continuing work of the Germanna Foundation.
Remember the Germanna Foundation in your will and estate plans.
Become a member or renew your Germanna Foundation membership.
— • —
More information about the Germanna Foundation's history can be found here:
Germanna Record #17: The First Fifty Years of the Germanna Foundation