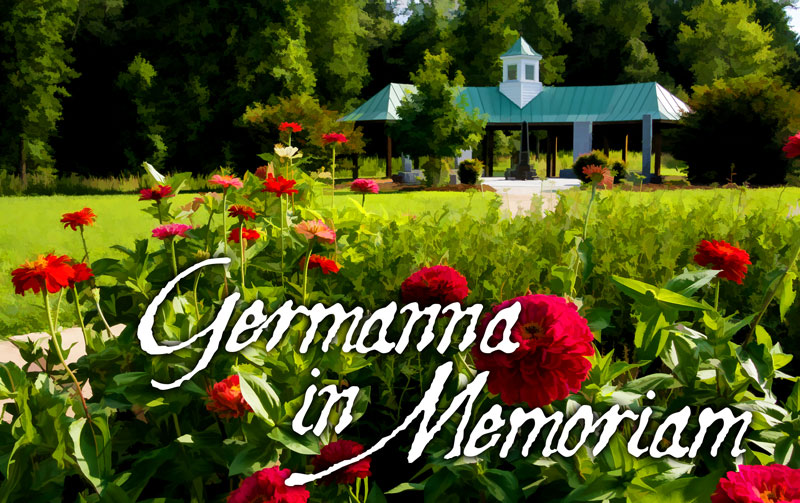 The Germanna Foundation extends condolences to family members of people in our Germanna community who passed away recently:
Horst Schneider
The board received with regret news of the death of Trustee Emeritus Horst Schneider of Siegen Kaan-Marienbborn on 3 October 2018. Horst succeeded his good friend Heinz Prinz on the Germanna board when Heinz died in 2004. He served a decade on the board, retiring at the 2014 Reunion, at which time the Foundation awarded him a plaque in gratitude for his exceptional service on behalf of Germanna in Germany, and named him Trustee Emeritus.
Born in Siegen on 22 January 1941, Horst was the son of innkeepers in Kaan-Marienborn, the home village of the Hitt family. After completing his education, Horst worked his entire career at increasingly important positions with the government of the county of Siegen-Wittgenstein, homeland of all the 1714 and later Little Fork Germanna settlers.
He was a co-founder and vice president of the Heimatbund, or association of local historical societies in Siegen-Wittgenstein, and a co-founder and longtime officer of the Deutsch-Amerikanischen Gesellschaft (DAG), the German-American Association of Siegen-Wittgenstein, and played an active role with the Tourist Association of Siegen-Wittgenstein. Horst received the Walter-Oerter Medal in 2011 in recognition of his extensive community service.
Horst attended Germanna Reunion several times, and each summer from their beginning in 2003 until 2015, Horst and his colleague Kurt Muelln organized the visit to the villages and museums of the Siegen area for the Germanna Foundation. We extend our heartfelt sympathy to his widow, Elisabeth, their son Markus and daughter Petra and their families.
Forest Wayne Crigler
Longtime Germanna member and Jacob Crigler descendant Wayne Crigler of Emerald Isle, NC, died on 13 September 2018 at his daughter's home in Pinnacle, NC, while evacuated from his home during Hurricane Florence.
The son of James Franklin Crigler, Sr., and Ruth Lillian Nicholas Crigler, Wayne was drafted into the U.S. Army in 1953 during the Korean War. He held electrical engineering degrees from the University of Missouri and Lehigh University. He was a researcher at Bell Laboratories for 22 years, then volunteered through the Bell Lab Aid to Black Colleges program as a professor of electrical engineering at North Carolina A & T State University in Greensboro for 12 years.
An avid golf and tennis player, Wayne traveled extensively and took part in mission trips to Peru. He is survived by his wife of 63 years, Elaine, their four children, 13 grandchildren, and 16 great-grandchildren. The Germanna family extends its condolences to all of Wayne's family.
Chester E. Ramey, III
Longtime Germanna member and former volunteer, Chester Eugene Ramey, 55, died on 30 October 2018 at Blue Ridge Hospice in Winchester, VA. Son of Diane Zerkel and Chester Ramey, Jr., he was raised in Arlington and Vienna, VA, but moved to the Shenandoah Valley to be active in family and historical research in that region.
He was proud of his Germanna heritage and worked as a volunteer for the Foundation in years past and attended several Reunions. He chaired the German Fest, sponsored by the Germanic Heritage Museum in the Shenandoah Valley. Chester worked to help persons with disabilities and was actively involved in community affairs.
He is buried in Riverview Cemetery, Strasburg, Va. We extend our condolences to his father, siblings, and other family members.
Bob Sexton
Robert M. "Bob" Sexton, 75, of Fredericksburg, a devoted Germanna descendant and member of the Reunion Committee, died in Richmond on 8 November.
Born and raised in New Wilmington, PA, Bob graduated from Westminster College in PA in 1965 and married Nancy Jane Hollabaugh that summer. Bob was employed by the U.S. General Accounting Office from 1965 until he retired as a Senior Evaluator for Strategic Issues in 2001. He also served in the U.S. Army Reserve from 1966 to 1972.
Bob was a life member of the Amburgey Family Association. He traveled to Germany in 2008 with the Germanna group to visit Boennigheim, home of Conrad Amberger, his 1717 Germanna ancestor.
In addition to his labor on the Memorial Gardens at the Fort Germanna Visitor Center and his work on many Reunions, Germanna friends will remember with pleasure the heated auction battle in which Bob beat other bidders to the precious bottle of wine from the Kraichgau with an exceedingly generous donation to the Germanna Foundation.
Besides Germanna, Bob had an active interest in the Lions Club and in the Heatherstone Homeowners Association, serving as an officer for both. He is survived by his son John of Fredericksburg and daughter Heather Bryant of Mechanicsville, two grandsons and three granddaughters. Bob's many Germanna friends extend their condolences to his family.
Ann Howard
Ann Howard, wife of Germanna's Visitor Center volunteer coordinator and librarian, John Howard, died on 10 November 2018. Born in LaCrosse, WI, in 1939, Ann and John lived in Virginia for 51 years. An active gardener at their Lake of the Woods home, Ann is survived by her son and daughter and 5 grandchildren, to whom we extend our heartfelt condolences.