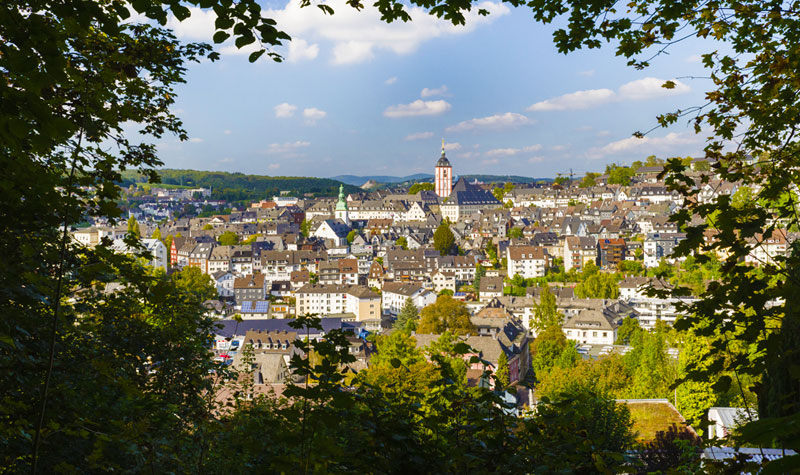 The Germanna Foundation's annual trip to Germany is an exceptional experience. The ancestral villages of the participants become the itinerary for each year's trip.
The next trip takes place 17-29 June 2019.
One of the tour guides is a Germanna trustee, descendant, and expert on Germanna genealogy and the other is a German native who is now an American high school teacher. Our contacts in Germany, developed over the past 15 years, roll out the red carpet, offering opportunities not available through commercial tour companies or to individual travelers.
Visit the church where your ancestors married; hold in your hands the chalice from which they took communion; see the church register entry for their baptism; perhaps even see a house in which they lived, or meet a distant cousin descended from a sibling your ancestor left behind in the family village.
To enjoy these rare moments on the tour from 17-29 June 2019, be sure to send your $200 deposit to the Germanna Foundation office before Christmas by check in the mail to P.O. Box 279, Locust Grove, VA, 22508.
More Information about our Germanna-oriented trips to Germany
Christmas Market Cruise 2019
If you are looking for the perfect gift for a loved one this Christmas, may we suggest the Germanna Christmas Market Cruise on the Rhine in December 2019? The tour will visit Christmas markets in Switzerland, Germany, France, and the Netherlands.
Travel in luxury on the AmaStella from Basel, Switzerland, to Amsterdam in the Netherlands for 8 days and 7 nights from December 8-15, 2019. Send a $400 payment to the Germanna Foundation to hold your place. Final payment will not be due until September 1, 2019.