The Germanna Foundation's new Executive Director was recently featured in Culpeper Star Exponent article written by Clint Schemmer: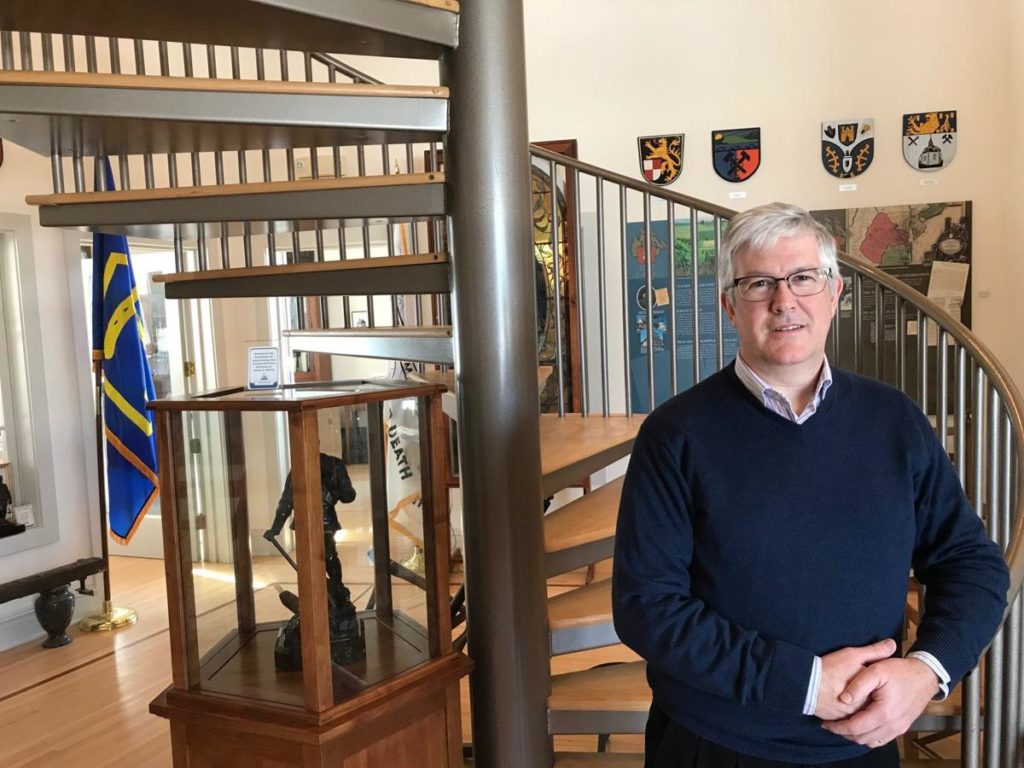 The Germanna Foundation is no longer just a genealogy organization.
The Virginia-based nonprofit has broadened its mission beyond representing the descendants of the Germans who settled the colony's early 18th-century frontier.
The foundation, created by those settlers' kin in 1956, had until now been known as a genealogy-driven group through which people traced their links to the 1714 colony that Virginia's royal governor created on the banks of the Rapidan River.
It will remain true to those roots, but now wants to expand to tell much larger stories, says the foundation's new executive director, Timothy Sutphin.
Tied to a bevy of historic sites in Central Virginia, these stories could encompass cutting-edge 21st-century archaeology, people's adventures and tensions on what was then the western frontier, the young nation's growth beyond settlers' initial foothold in Tidewater Virginia, the life experiences of Germanna's settlers, and the peculiar achievements of Britain's go-getter Colonial governor, Alexander Spotswood, he said.
"These are cool places with fascinating stories," Sutphin said during recent interviews at the foundation's Brawdus Martin Visitor Center in Orange County. "We have amazing opportunities to introduce Germanna to an audience that doesn't know we are here yet and to further develop the resources that we offer visitors."
The foundation's constellation of properties includes:
—The Fort Germanna Brawdus Martin Visitor Center next to Germanna Community College's Locust Grove campus on Route 3 at the Rapidan River. It is the hub for all things Germanna, home to exhibits, artifacts, a research library, a Memorial Garden that preserves Spotswood's remains, and the new Hitt Archaeology Center under construction.
—The site of Fort Germanna, the palisaded, 1714 frontier outpost with a blockhouse that became home to German-speaking colonists imported by Lt. Gov. Alexander Spotswood for their mining expertise.
—The site of the "Enchanted Castle," the palatial governor's residence that Spotswood built of stone to anchor the 80,000-acre inland empire awarded to him by Britain's Privy Council.
—Salubria, the incredibly well-preserved 1757 manor home built by the Reverend John Thompson and his wife, Butler Brayne Spotswood Thompson, widow of Spotswood.
—The Siegen Forest, a 179-acre preserve with four nature trails along the Rapidan River that enable people to hike through historic sites that number an 18th-century millpond, Civil War trenches and artillery emplacements, and a 20th-century airway beacon. It is named for the region of Germany from which the colonies' settlers came.
—The Peter Hitt Farm, which was established in Fauquier County in 1800 by Revolutionary War soldier Peter Hitt, a Germanna descendant. The farm's 33 known graves, near its cabin, include the final resting places of Peter and his wife, Hannah.
Some day, Sutphin envisions a heritage driving trail that will link all of those historic sites, and perhaps others.
All of the sites are within a few yards or a few miles of the foundation's Fort Germanna Brawdus Martin Visitor Center on Germanna Highway, aka State Route 3, at the border between Culpeper and Orange counties.
The five-sided Visitor Center, topped by a sun-filled cupola reached by a spiral staircase, draws its architectural shape from the pentagon-shaped blockhouse inside the original German settlers' Fort Germanna. Stocked with a research library, it is filled with exhibits and artifacts that tell tales of the settlers and what they accomplished after they landed in America.
Germanna at a crossroads
But Sutphin, responding to a new direction recently charted by the foundation's board, seeks to explore much more than the Germans and their descendants or Spotswood, as colorful a character as he was.
"We are at a crossroads," he said. "Germanna wants to grow into something more appealing to the general populace than just genealogy. Our board of trustees wants the foundation to become a voice in the national conversation about American history. These people's journey is the story of America, but it's a story that many of us do not know, told from a German perspective although their patron was English."
But a bit about Spotswood. This always-striving, illegitimate, Moroccan-born son of a British military surgeon climbed fast and far. Serving as quartermaster-general of the Duke of Marlborough's army, Spotswood was wounded at the Battle of Blenheim in 1704 before named the Earl of Orkney's No. 2 in Virginia, which meant that he was the man on the scene charged with running English America's richest colony.
The 'greatest governor'
Spotswood was the first royal governor to live in the Governor's Palace in Williamsburg, a site since visited by millions of international tourists. In western Virginia's wilderness, he went on to build a mansion so grand that William Byrd II, the owner of Westover, a stately James River mansion below Richmond, marveled at its opulence. Next to his home, Spotswood named the Rapidan River (the Rapid Anne) to honor his royal patron, Queen Anne of England.
Among other accomplishments, Spotswood is credited with building Fort Christanna in Brunswick County to encourage trade with American Indians and teach them English culture; served as British North America's deputy postmaster general; and dispatched the military expedition that killed the pirate Blackbeard during a naval battle off Ocracoke Island in North Carolina. British historian Bruce P. Lenman calls Spotswood "the greatest of Virginia's royal governors."
Imagine the vision it took for Spotswood to arrange the importation of two sets of German settlers—124 in all—to mine and refine the iron deposits found in the Rappahannock River watershed. They built the first roads from the Rappahannock River into the Piedmont, opening up the region to settlement; quarried stone; prospected for silver; and operated an iron furnace. Spotswood's iron wares were exported to England.
"These Germans were transported across the Atlantic Ocean and brought to the western frontier," Sutphin said. "They went to work for the British lieutenant governor as indentured servants, required to spend four years taming the frontier and developing an iron industry for him and the colony."
"They didn't know the language or the customs, but were coming here for a better life—what folks are still coming to America for today. They worked hard, made sacrifices for a better future, and developed freedoms and liberties that no other country allowed. Theirs is a fascinating success story we all can learn from. It is as relevant today as it was 300 years ago."
Marc Wheat, the board's president, puts it this way:
"It would be wonderful if every schoolchild in America could summarize the westward expansion of the American frontier by three simple words: Jamestown, Williamsburg, Germanna."
Digging for the future
One recent addition to Germanna's board could help connect those stories. William Kelso, the archaeologist who re-discovered Virginia's 1607 James Fort, was appointed as a trustee last fall. Kelso, whose earlier career saw him direct archaeology at Carter's Grove, Kingsmill and Thomas Jefferson's Monticello and Poplar Forest, also excavated Spotswood's Enchanted Castle site in Orange decades ago.
But Germanna's past speaks to the future, too.
Better communicating its frontier stories to the public would enable the foundation to discuss medicine, technology, financial innovation, even space exploration, Sutphin said.
"People say such themes are new. No, they're not," he said.
Sutphin, who turns 54 next month, is optimistic about the possibilities at Germanna, especially for involving visitors in the discoveries and research done by its staff and volunteers.
"There is a vast array of the archaeology that can be done here," he said. "We're just on the ground floor. But five years ago, who would have thought that Germanna would be finishing construction of its Hitt Archaeological Center this spring. This organization has the drive to achieve that, and that speaks to the foundation's passion and dedication."
Taking the lead
Sutphin, who lives in Lake of the Woods with his wife, Keeley, comes to Germanna with a wealth of experience in presenting public history and managing special events at historic sites.
Born in Oak Ridge, Tenn., Sutphin grew up in the Williamsburg area. He was steeped in public programming over a 27-year career at Colonial Williamsburg. He got his first real taste of history as a 10-year-old fifer in the site's Fife and Drum Corps during the U.S. bicentennial, going on to earn a science and history degree at East Tennessee State University, and then returned to work at Colonial Williamsburg in 1988.
Starting as director of special events, he advanced to oversee a $7 million budget that employed 350 full-time and part-time people. His work included the Fife and Drum Corps, military-themed events, interpreters on the streets of Colonial Williamsburg, the foundation's "Revolutionary City" and Halloween programs.
And briefly, he worked with the Jamestown-Yorktown Foundation as deputy director of its 2019 commemoration, laying the groundwork for that effort.
"I love history," he said. "But for me, it's also about developing young people into leaders and teaching good citizenship."
The historian James Horn, president of Jamestown Rediscovery, which operates Historic Jamestowne, and Robin Edward Reed, director of the Casemate Museum at Fort Monroe in Hampton, are among those who sing Sutphin's praises.
"At Colonial Williamsburg, Tim's official title was director of the Revolutionary City, but in fact the title did little justice to the range of his responsibilities across the Historic Area," said Horn, formerly vice president of research and historical interpretation at the Colonial Williamsburg Foundation.
"… [Sutphin] could juggle so many responsibilities because he was so good at dealing with the countless details involved while at the same time always keeping in view the bigger picture, the vision and goals we had in mind," Horn said. "I used to call him a 'no sweat' director: Any job he had to do would be done well and on time, and therefore I wouldn't have to sweat it. Such people are few and far between. He will be a great leader at the Germanna Foundation."
Reed supervised Sutphin for seven years and has counted him as a friend for more than two decades.
"Tim has the unique ability to change his approach and apply the correct management style, whether that focus is presenting to a board of directors, adult staff or a group of young people," Reed said. "He is respected by all of those groups."
Germanna's new leader is excited about its prospects.
"The foundation's supporters have a passion for its historic places," Sutphin said. "But it is also an organization willing to change. Those are two things you don't get every day in any organization, nonprofit or not."
Quickly, he sketches ideas for future programs, among them engaging the public in ongoing archaeological work, opening Salubria to regular visitation, finding the remains of Fort Germanna, developing a concert series or a storytelling festival, investigating Salubria's sunken gardens, and incorporating more technology into the foundation's interpretation.
"I believe that some of these things are achievable. Let's try to do them," Sutphin said. "In three to five years, I hope people look at Germanna, realize there is a lot is going on, and say 'Let's go see what's new there today.' "