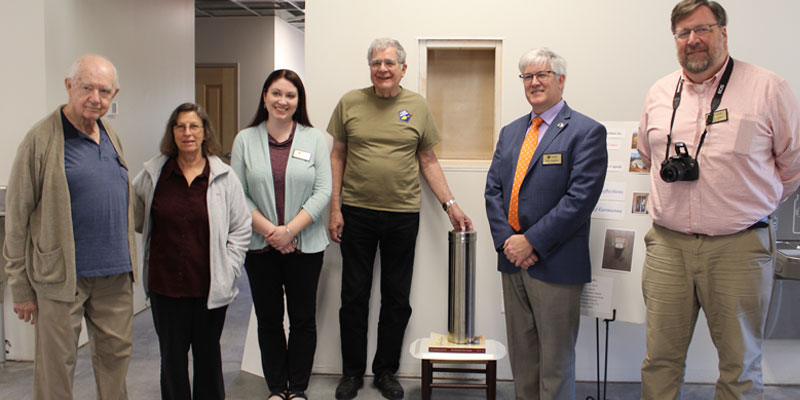 An article about Germanna's time capsule placement appeared in the Culpeper Star-Exponent, written by Clint Schemmer:
–
A new building near the Culpeper-Orange county line now bears a message to the future.
Four hundred and 30 pages of them, actually, most written by descendants of two waves of German immigrants who settled the region in the early 18th century.
These German-Americans, hailing from 16 U.S. states, addressed their own descendants — many of whom are likely not yet born — and other people of the future via a time capsule that has been sealed inside the Germanna Foundation's Hitt Archaeology Center on State Route 3, overlooking the Rapidan River.
The idea is that, half a century hence, the descendants' descendants can look back on what their kinfolk were thinking and doing at this site devoted to interpreting an unusual chapter in the nation's history.
"People wrote stories about themselves in the hope that their descendants will someday see their notes," said Skip Poole, a trustee of the nonprofit foundation. "They were very personal, very moving kinds of things. It was a pretty neat activity. I was very pleased by the response."
Sixty-seven members of the foundation and their friends, most of whom are descended from people in the Germanna colonies of 1714 and 1717, wrote letters, from one to 20 pages in length, Poole said in an interview Wednesday.
"People wanted to tell their stories," the Lake of the Woods resident said.
In addition, 22 regional organizations contributed letters or proclamations about the German settlers and the Germanna Foundation. They included historical societies, area churches and governing boards in Culpeper, Orange, Madison, Fauquier and Shenandoah counties, where Germanna colonists settled.
Dr. Janet Gullickson, the president of Germanna Community College, also chimed in. The college's first campus, at Locust Grove in Orange County, was built on riverside land donated by the Germanna Foundation.
The mayors of two German communities—Bonnigheim and Hulben —wrote missives, too. The first town provided some of the Germanna colonists. The second municipality's mayor is a friend of a member of the Madison County Board of Supervisors. Both mayors visited Germanna last year, Poole said.
All those jottings flowed from a notion that Poole had almost a year ago, last April, and brought up at a meeting of the Foundation's Board of Trustees: What about putting a time capsule inside the new Archaeology Center?
His fellow trustees liked the idea, and tasked Poole with leading a committee that would make it a reality.
"It was fun," he said of the experience.
Poole, who is descended from Second Colony settler Michael Clore, wrote his own letter. The Clore family is best known for the handcrafted furniture that they have been making in Madison County since 1830. Poole, who learned of his Germanna heritage in the late 1990s through his aunt, also detailed the foundation's activities across many fronts.
The foundation's Board of Trustees also encouraged the capsule's contributors to donate to a special fund that will be invested and protected for the next 50 years, Poole said. Some families gave $50, others $1,000; their donations totaled $5,300.
Last Thursday, Poole joined foundation Executive Director Timothy Sutphin and Director of Archaeology Eric Larsen and other staff for the ceremony at which the 22-inch-high, 5-inch-diameter, stainless-steel capsule was sealed and walled up inside an interior wall of the Archaeology Center.
Forty-nine years, 11 months and a few weeks from today, it is hoped that future Americans will remove a plaque in that building, find and unseal the metal cylinder, and read its contents.
"I'm not sure I'm going to be around when the capsule is opened in 50 years at a reunion of Germanna descendants," Larsen said. "But this is a very hopeful endeavor. We asked the contributors to make sure that their own children and others are aware of the capsule's placement at the center, and to think far into the future about the people who may be around then, when it is unsealed."
The foundation's website, germanna.org, features a video of the ceremony during which the capsule was sealed and ensconced for later generations to discover.
The foundation hopes to hold a May ribbon-cutting for the Archaeological Center, at which the public can see where the time capsule was placed. In July the foundation's annual reunion will be celebrated, which brings hundreds of family members from around the world to study and honor their German and American heritage.
Poole and his colleagues hope that their kin will pry loose the foundation's time capsule at such a reunion, in July 2068.