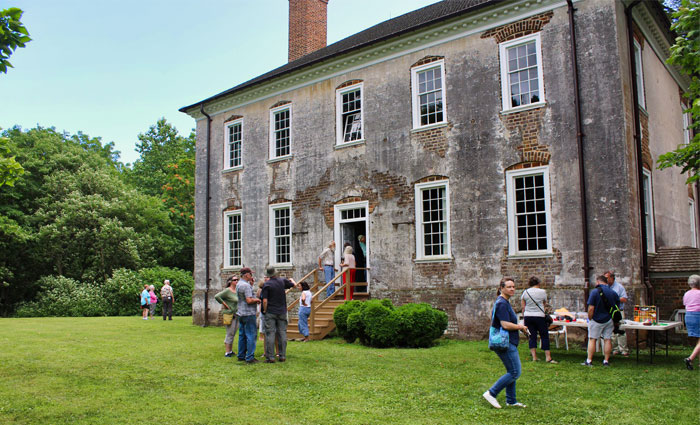 Germanna's historic Salubria Manor held its first public access day on June 21, 2019. An article in the Culpeper Star-Exponent by Clint Schemmer and Emily Jennings covered the successful event:
Unexpected was the theme of recent days at Salubria, Culpeper County's oldest brick house and one of Virginia's most pristine historic sites.
On its first-ever Public Access Day, the 1757 estate welcomed more than 100 visitors. That was twice as many as officials with the Germanna Foundation, the site's steward, had thought might come on Friday.
Plus, archaeologists who have begun to plumb the Colonial plantation's secrets for the first time almost immediately began to make tantalizing discoveries.
Marty and Don Valade, visiting from Poincianna, Fla., said they enjoyed strolling Salubria's ridgetop off Germanna Highway east of Stevensburg and viewing the home's exterior.
"It's a beautiful house, with wonderful grounds," Marty Valade said. "We knew about the public access today and tried to come over, but all the tours were filled. We'll have to come back another time."
KIN TO AN OCCUPANT
Another visitor, Dale Sayers of Hanover County, is a descendant of the lady of the manor, Butler Brayne Thompson, the widow of colonial Lt. Gov. Alexander Spotswood.
Spotswood, for whom Spotsylvania County is named, arguably was the most powerful man in the British colony. His brick and stone mansion nearby in Orange County, nicknamed the "Enchanted Castle" by a fellow member of the gentry, rivaled the Governor's Palace in Williamsburg in size and plush furnishings.
Spotswood, who was orphaned at an earlier age and pulled himself up by his bootstraps, prospered in Virginia, eventually coming to own 80,000 acres in the vicinity of Germanna Community College's Locust Grove campus.
AN UPPER-CRUST LADY
In 1724, Spotswood traveled to London, where he met Butler, a member of a well-to-do family in Surrey that was part of British high society. Their first two babies were baptized in Westminster Abbey, and then he persuaded her to move to America.
"And she left all that to come to the Virginia frontier," said Sayers, who came to Culpeper Friday with her husband, Jim.
Two years after Spotswood died, Butler married the Rev. John Thompson, rector of Culpeper County's Little Fork Church, in 1742. Thompson built the house for his bride, who had lived at Spotswood's Enchanted Castle on the Rapidan River.
"He used her money to build this house," Sayers said of Thompson. "He would not have been able to afford building this house; he used her inheritance."
Salubria was built from more than 200,000 bricks handmade on the property by enslaved people or indentured servants from Germany.
"Salubria is a Georgian gem," Sayers said. "The [interior] woodwork is elaborate and original. It's a Tidewater home built in the Piedmont, comparable to James Madison's Montpelier."
She noted that Thompson's letters to Butler are preserved at the Virginia Museum of History and Culture. "He wrote that he loved her passionately and ardently and begged her to marry him," Sayers said.
"There is also a letter to his family in Ireland telling them he had married very well. Apparently, her family thought he was below her," she said. "He wrote to her that if he could attend Jesus Christ the savior, he could attend her."
VISITORS ARE KEEN
Doug Boomer of Culpeper and his wife, M.C. Harrell, thought the foundation's special event was a good opportunity to learn more about a site they had read about in a history book.
Harrell noted that the house, which was never furnished with modern conveniences and was last occupied in 1938, retains its original flooring, woodwork, walnut paneling and lathe-and-plaster walls, little changed from the time of Butler and John Thompson. (Butler died in 1758; Thompson remarried and died 1772.)
"It's interesting really that it's kind of not restored. … This feels more like the real thing," Harrell said. "Also, it was wonderful to have the tour guide we did, someone with personal memories of the house and its people."
That guide was Culpeper County resident Leta Scherquist, who has been the site's caretaker for decades. She is a cousin of J. Gordon Grayson, whose widow, Laura, gave Salubria in 2000 to the Memorial Foundation of the Germanna Colonies in Virginia. Members of the Grayson family are interred on the property; a 19th-century monument in the extensive garden marks their gravesites.
For context, Scherquist called attention to the fact that in Salubria's heyday, the village of Stevensburg had many more people than Culpeper and boasted its own academy of higher education.
The caretaker explained how Thompson, originally an Anglican priest, had been educated in Scotland. He became a Presbyterian minister when he realized the Anglicans were paid better than the Presbyterians, Scherquist said. And then he came to America.
The house's east parlor was the most elaborate room.
"This was Rev. Thompson's study, and this was his bookcase, " Scherquist said, opening a door in the cabinetry. "This is called crown glass; it's from Bristol England, and it's original.
"If you could fill this bookcase up with books in the 1750s, you had to be rich. They didn't have bookmakers in America, they all came from England," she said. "Most people if they were lucky had a Bible; that was the only book they had. And this is where [Thompson] sat and wrote his sermons."
SOON SOLD OUT
Scherquist's tours were a big hit.
Some 65 people booked all three of her house tours a short while after the site's 10:30 a.m. opening. The foundation limited access to preserve the building's fragile interior, and was forced to turn would-be tour-takers away.
Ashley Abruzzo, the foundation's membership development director, said officials were pleased by the turnout.
"We hope to make it more accessible to the public, to have it open more to tours throughout the year," she said.
ONGOING STUDY
The foundation's archaeologists will be on site most of the summer, as its researchers and their field-school students systematically survey and investigate the 19-acre site for the first time.
Dr. Eric Larsen, the foundation's director of archaeology, was buoyed by people's interest in the site and the study it is now receiving.
Already, shovel tests and a first 5-by-5-foot excavation unit have yielded evidence of what could be a stone wall or a building foundation, as well as a brick wall.
The latter hint, found buried in one of the site's garden terraces, was highly unanticipated.
"That is still an enigma, but it has lots of potential," Larsen said. "Let's figure out: What does this garden mean?"
Little trace of Salubria's outbuildings remains above ground. Finding their remains is one task for the archaeologists, who are mapping the site and digging test pits on an orderly grid.
ARTIFACTS REPLICATED
Dr. Bernard Means, an archaeologist with Virginia Commonwealth University, shared with visitors 3-D models of all kinds of artifacts his team has scanned and digitized from excavations and museum collections across the country.
The plastic objects—bullets, bowling pins, knives, skeletal parts, a toy soldier, a nib pen, and mammoth skin—intrigued young and old alike.
"If you go to a museum, you don't get to pick up the real thing," Means said. "This way, people can hold an artifact, get a feel for it and take a careful look at it up close."
The Germanna Foundation, a nonprofit group that preserves a nationally significant handful of historic sites in the state's northern Piedmont, will welcome the public again to Salubria on July 5. And on July 18 and Aug. 1, it will invite visitors to the Orange County sites of Spotswood's Enchanted Castle and Fort Germanna.
Fort Germanna, a palisaded enclosure near the Rapidan River, was built in 1714 by Germanna settlers to protect themselves from Indian attack. All three of the historic sites normally are closed to the public.