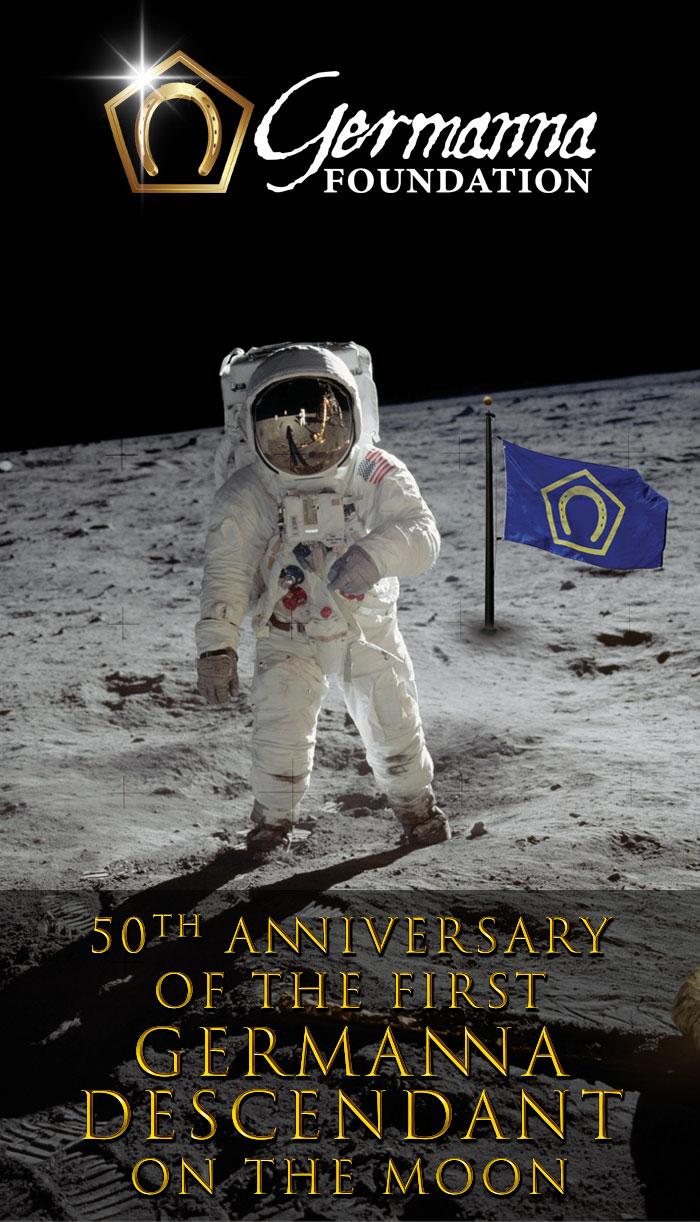 UPDATE: Chart showing Aldrin's Germanna connections (pdf)
50 years ago today, July 20. 1969, Apollo 11 Astronaut Edwin "Buzz" Aldrin made the historic first landing on the Moon. After taking communion, he then descended down the ladder of the lunar module Eagle to become the first Germanna descendant to explore the Moon.
Descending from the Fischbach and Richter families who came from the village of Trupbach, Aldrin is also a direct descendant of German Reformed Church Reverend Henry Häger (1644-1737), who came from the towns of Siegen and Oberfischbach. Häger was the pastor of the Germanna colonists at Fort Germanna.
When Rev. Häger administered communion at the Oberfischbach Church in Germany with the special chalice given to the parish in 1665 by Johann Moritz, Prince of Nassau-Siegen (an exact replica of the chalice is at the Fort Germanna Visitor Center), would he have imagined that within 300 years, his descendant would also take communion, but on the Moon?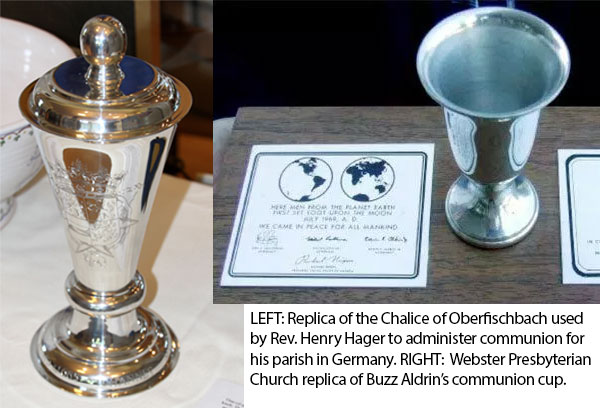 In 1970, Aldrin wrote taking communion on the Moon was, "symbolizing the thought that God was revealing Himself there too, as man reached out into the universe. For there are many of us in the NASA program who do trust that what we are doing is part of God's eternal plan for man." (Read his account of the event)
After landing on the Moon 50 years ago today and unstowing the communion elements from his flight packet, Aldrin radioed back, "Houston, this is Eagle. This is the Lunar Module Pilot speaking. I would like to request a few moments of silence. I would like to invite each person listening in, wherever and whomever he may be, to contemplate for a moment the events of the past few hours and to give thanks in his own individual way." He then took communion.
He later said, "It was interesting to think that the very first liquid ever poured on the Moon, and the first food eaten there, were communion elements."
The Germanna Foundation celebrates the achievements of Germanna descendant Buzz Aldrin and looks forward to the day when more Germanna descendants, perhaps descended from your Germanna line, will walk on the Moon . . . . and Mars! Consider making a donation to the Foundation to ensure that our work preserving your heritage is kept safe and stable to celebrate that in the future.
The Germanna Foundation will be working with the city of Siegen to establish a permanent exhibit to honor Buzz Aldrin and the Germanna frontier settlement.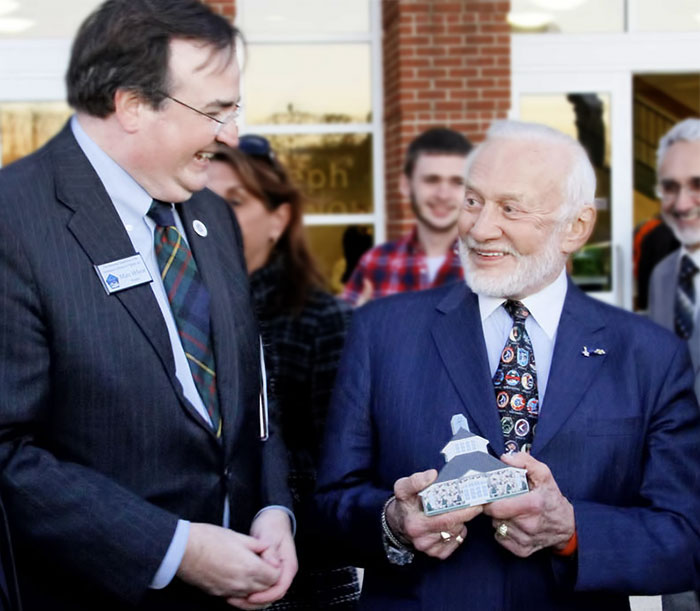 Germanna Foundation President J. Marc Wheat gives a model of the Fort Germanna Visitor Center to Apollo 11 Astronaut Buzz Aldrin. See Photo Gallery of Buzz Aldrin's 2014 visit to Germanna Community College.