As of February 2021, we are halfway to our goal of raising $25,000 to have the new Broyles genealogy printed. Cathi Clore Frost continues to be optimistic that publication of the volume will take place this year, although pandemic library and archive closures may delay it until after the annual July Reunion. If it cannot be ready by Reunion, her goal is to have the book available for Christmas gift giving.
Even though they are not her own ancestors, a connection to her hometown and childhood friend as well as to Germanna sparked Cathi's interest in the Broyles family. Cathi tells us that when she was growing-up she loved reading about pioneers and was greatly disappointed to learn that none of her ancestors came out west on the Oregon Trail.
Fast forward a few years to when Cathi was well into her study of the history and genealogy of the Germanna colonists. "While walking in the neighborhood where I grew up," she tells us, "to my surprise I noticed a survey marker on a telephone pole marking a corner of the 'Aaron Broyles DLC'*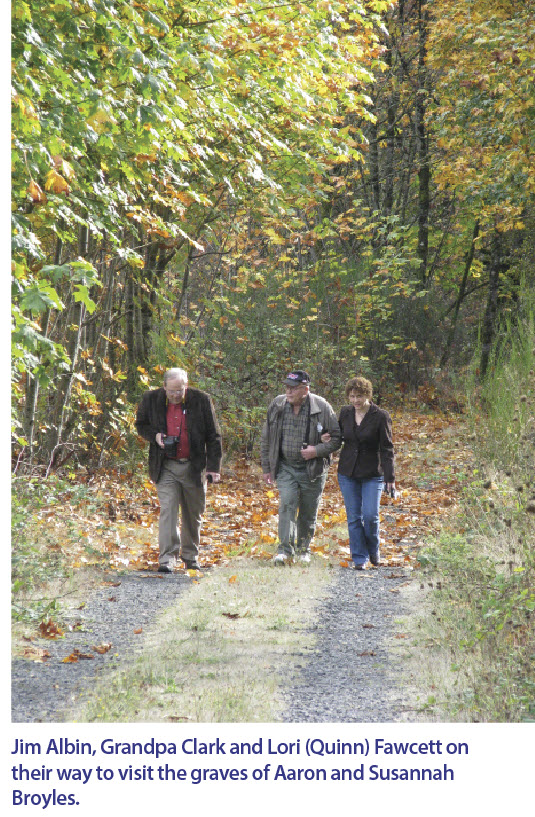 "Doing some quick research, I figured out how he fit into the Germanna Broyles family and that he was an early settler of St. Helens, Oregon, where I live. My childhood home sat on what had been his land. At the time of the 1850 census, nine years before Oregon achieved statehood, Aaron Broyles lived with the founder of this town. After I found his grave and posted a photo of the marker on Facebook, I learned that Lori (Quinn) Fawcett, my dear friend since kindergarten, was related. She is a descendant of Aaron Broyles' wife."
Cathi goes on to tell us that longtime Germanna Foundation member and Chaplain, Jim Albin and his wife Donna visited her when she and John Blankenbaker hosted a small West Coast Germanna Gathering which Lori and her family also attended.
"We visited the graves of Aaron and Susannah Broyles in the Masonic Cemetery. Lori, her grandfather, and Jim really hit it off. We were obliged to climb a rather long, steep hill to get to the cemetery itself. Grandpa Clark trudged up the hill with Jim and Lori attending. As our visit was ending, we were caught in a downpour. My husband ran to our car to fetch an umbrella for Lori's grandparents. Lori and I were soaked through our coats by the time we got to the car but it's one of my favorite memories."
Jim Albin has been a driving force in raising funds to make possible the creation and publication of the Broyles book. Although she is the author, Cathi also made a donation toward the publication costs so that she may dedicate a memorial in the book honoring Aaron Broyles.
It is not necessary to be a Broyles descendant to donate to this project. Memorials or Tributes may be made in honor of anyone. A First Colony descendant has donated a tribute "In Honor of my Germanna Friends who are Broyles descendants."
Any Broyles descendant donating $500 may include a line of descent in their Memorial or Tribute. See the attached chart to learn more. Please contact Barbara Bounds via email [email protected] or telephone 540-423-1700 for assistance making your contribution.
*By terms of the Donation Land Claim Act of 1850, settlers in Oregon could claim 320 acres for a single white male citizen or 640 acres for a married couple. Both Aaron Broyles and wife Susannah (Quick[el]) had adjoining DLCs before they married in 1855. Susannah's first husband, Johan Felix Franz, drowned at Salmon Falls in what is now Idaho while crossing the plains. Aaron was also married previously, but little is known of his first wife who he married in Tennessee. She probably died in Missouri before Aaron emigrated to Oregon.
If the below form does not appear correctly on your device, go to: http://weblink.donorperfect.com/broyles-book