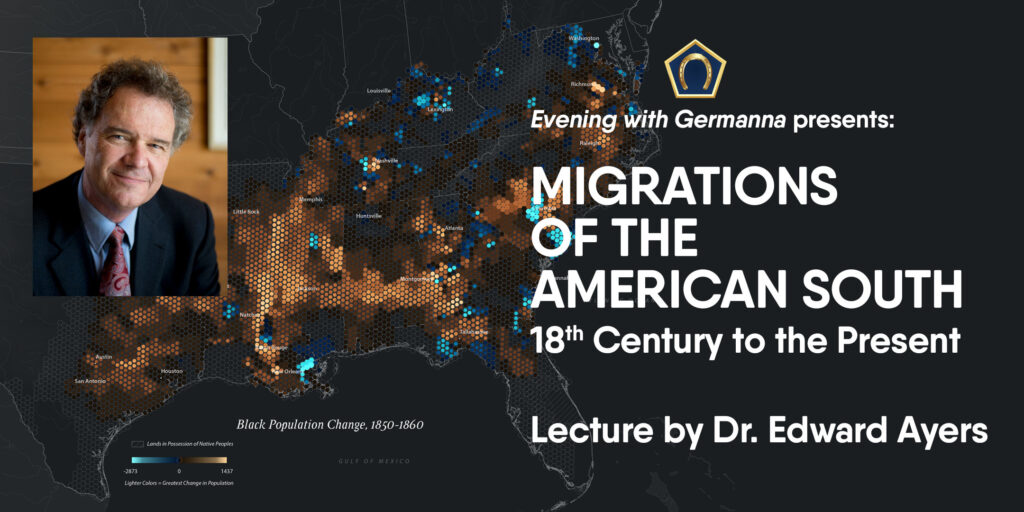 On November 4, 2021, Evening with Germanna presented an online lecture by well-known historian Edward Ayers who narrated the evolution of southern history from the founding of the nation to the present day by focusing on the settling, unsettling, and resettling of the South.
Including indigenous, white, black, and immigrant people in the story, Ayers used unique color maps created with sophisticated tools to interpret massive data sets from a humanistic perspective, providing a view of movement within the South we have not seen before.
His latest book is entitled Southern Journey: The Migrations of the American South, 1790–2020.
Dr. Edward Ayers has been named National Professor of the Year, received the National Humanities Medal from President Obama at the White House, won the Bancroft, Beveridge, and Lincoln prize in American history, was a finalist for the National Book Award and the Pulitzer Prize, served as president of the Organization of American Historians, and worked as the founding chair of the board of the American Civil War Museum.
He is executive director of New American History, dedicated to sharing innovative work in words, maps, audio, and video with broad audiences and the nation's schools. He is Tucker-Boatwright Professor of the Humanities and president emeritus at the University of Richmond as well as former Dean of Arts and Sciences at the University of Virginia. See more at his website.
If your browser cannot see the below form, click here.