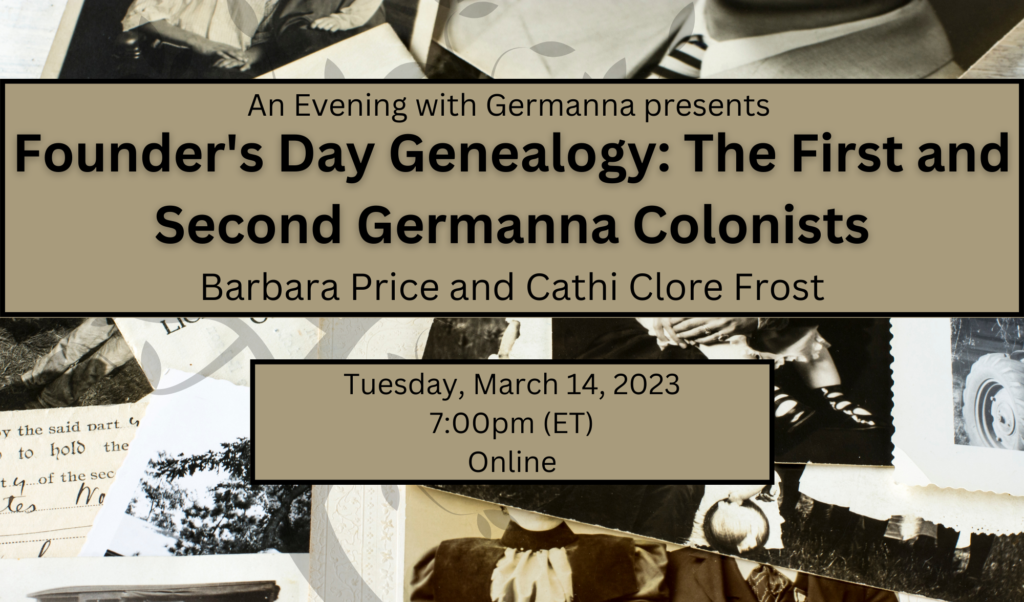 On Tuesday, March 14, 2023 at 7:00 pm (ET) Evening with Germanna presents a virtual lecture by Germanna Foundation Secretary Barbara Price and Germanna Foundation Trustee Cathi Clore Frost on the first and second Germanna settlers. 
What began as informal picnics at the site of the original Germanna settlement, reuniting descendants of the original settlers of the two Germanna colonies, became the genesis of the Germanna Foundation. On March 14, 1956, the Memorial Foundation of the Germanna Colonies in Virginia was officially charted by its founding members, including R. Brawdus Martin, Charles Huffman, John Wayland, and Benjamin Holtzclaw.
Every year on this day, Germanna remembers its founders, the German settlers who came to the Virginia frontier in the 18th-century, and their descendants.
Join Barbara and Cathi as they explore the genealogy of the first two groups of German settlers.
Barbara Price, Secretary 
Barbara Price is a descendant of Hans Jacob Holtzclaw and his first wife, Anna Margreth Otterbach, as well as the Heimbach and Fischbach families. Barbara first became involved with the Germanna Foundation in 1998, attended her first Reunion in 1999 and many more since then. She currently serves as Secretary for the Germanna Board of Trustees and serves on the Publications Program Committee. She also organizes and leads our annual Germanna to Germany Tour.
Cathi Clore Frost
Cathi Clore Frost first became involved with Germanna and attended her first Reunion in 2002. She was elected to the Board of Trustees in 2009. For a decade, she served as Chair of the annual Germanna Conference & Reunion. She also served as Board Secretary for 5 years and currently serves as Chair of the Education and Publications Committee. Cathi actively researches descendants and relatives of the Germanna Colonists. She maintains the Germanna Database of Descendants and is the author of several Germanna Records. Cathi is a descendant of Second Colony members of the Clore, Kaifer, Weaver, Volck, and Blankenbaker families as well as members of the Hirsch/Deer and Razor families who were later arrivals to the Hebron / Robinson River community.
---
This is a Donate-What-You-Can event. Your donation of any amount will go directly toward supporting this Germanna Foundation program and more programs like it as well as research, archaeology, and preservation of our historic sites. Thank you!
Upon completion of the below form, you will receive the link for this online Zoom webinar.
If you would like to sponsor the lecture, please make a donation with one of the below levels. We will recognize sponsors at the beginning and end of the program
$100 Iron Horseshoe Sponsor
$250 Silver Horseshoe Sponsor
$500 Knight of the Golden Horseshoe Title Sponsor
If your browser cannot see the below form, click here.
Please review the Historic Germanna Event Code of Conduct before attending this event.