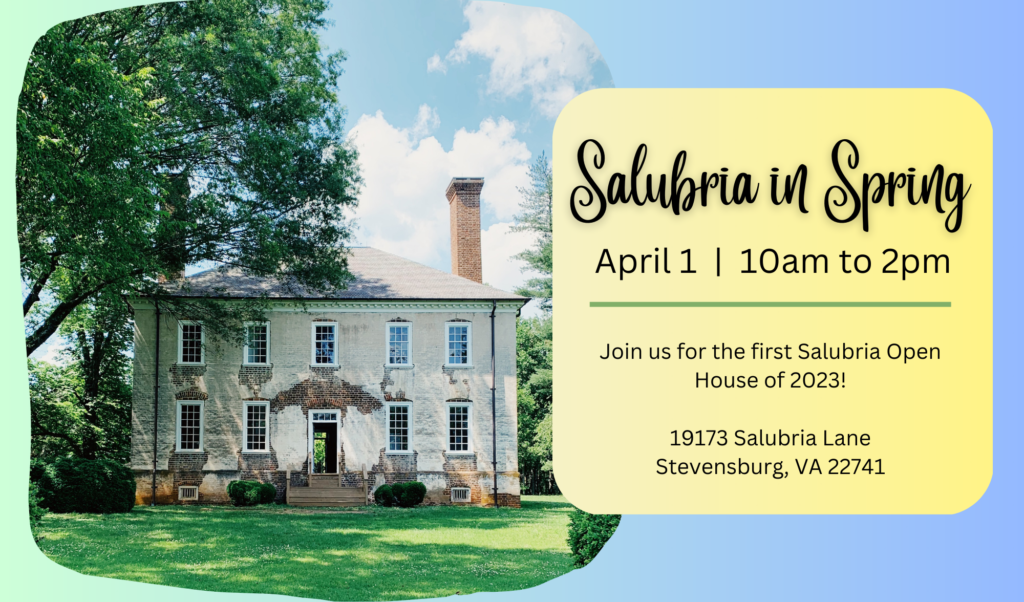 Join us on Saturday, April 1st from 10:30 am to 2:00 pm as the Germanna Foundation hosts a Public Access Day event at historic Salubria Manor, located in Stevensburg, Virginia.
Salubria was built circa 1757 by the Reverend John Thompson for his wife, Butler Brayne Spotswood Thompson (widow of Lt. Governor Alexander Spotswood) and is the oldest brick structure in Culpeper County. Germanna has been stewards of the property since 2000.
Salubria is located at 19173 Salubria Lane (off Route 3; if you are traveling west towards Culpeper, it will be on your left). Visitors can stop anytime between the scheduled hours. For more information, contact us at 540-423-1700. Visit our Events page to see other Salubria open house days. 
To sign up for a private tour of Salubria, call us at 540-423-1700. 
This is a donate-what-you-can-event with a suggested donation of $10. To register for this event, click here.