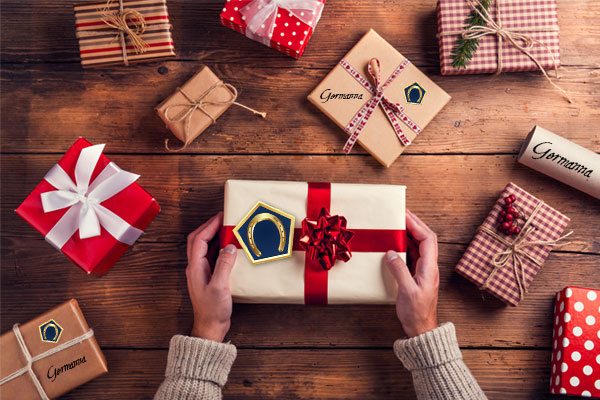 . . . . and help support the Germanna Foundation!
Wondering what to give the Germanna descendant in your life? We've got a lot of ideas for you:
• BEFORE you shop on Amazon, use Germanna's Amazon link to get there. The Foundation will get a referral fee for anything you purchase. The link is also on our website.
• Or, choose the Germanna Foundation as a charity for Amazon Smile when you shop. Amazon will donate money to us. Here's our link.
• GIFT IDEA: Buy a Germanna descendant item on our Zazzle store. Be sure to use Germanna's Zazzle link to get there and we'll get a referral fee. There are shirts and sweatshirts for women, men and kids; baby bibs and t-shirts, coffee mugs, steins, travel mugs, mousepads, ties, stamps, aprons, bags, playing cards, puzzles, key chains, bumper stickers, luggage tags, plates, pillows and much more.
• GIFT IDEA: Call the Germanna Foundation (540-423-1700 Mon-Fri 10a-4p) if you want to buy Germanna-branded pins, magnets, garden flags, postcards, pens and more that were sold during the last reunion. We also have Christmas tree ornaments.
• GIFT IDEA: Buy a Germanna Record for a family member so they can learn about their roots. There are 15 books to choose from!
• GIFT IDEA: Buy an engraved Stone Paver in the Memorial Garden in honor of your family or a member of your family
• GIFT IDEA: Buy a family member a seat on one Germanna's upcoming tours to Germany to either visit the ancestral lands of the Germanna colonists (June 17-29, 2018) or go on a river cruise (December 2019).
• GIFT IDEA: Pay for a family member to attend the next Germanna reunion on July 12-15, 2018 in Virginia.
• GIFT IDEA: Order a Germanna DNA test kit for a family member so they can know where they are originally from. FamilyTreeDNA makes a small contribution to us for every individual that participates in our Germanna DNA Project.
• GIFT IDEA: Buy a Germanna Foundation Membership for family members. They'll get our newsletter mailed to their house four times a year, plus get access to our genealogy database and more.
• GIFT IDEA: Make a tax deductible donation to the Germanna Foundation in honor or in memory of a family member. This gift helps ensure their Germanna heritage is preserved for future generations.