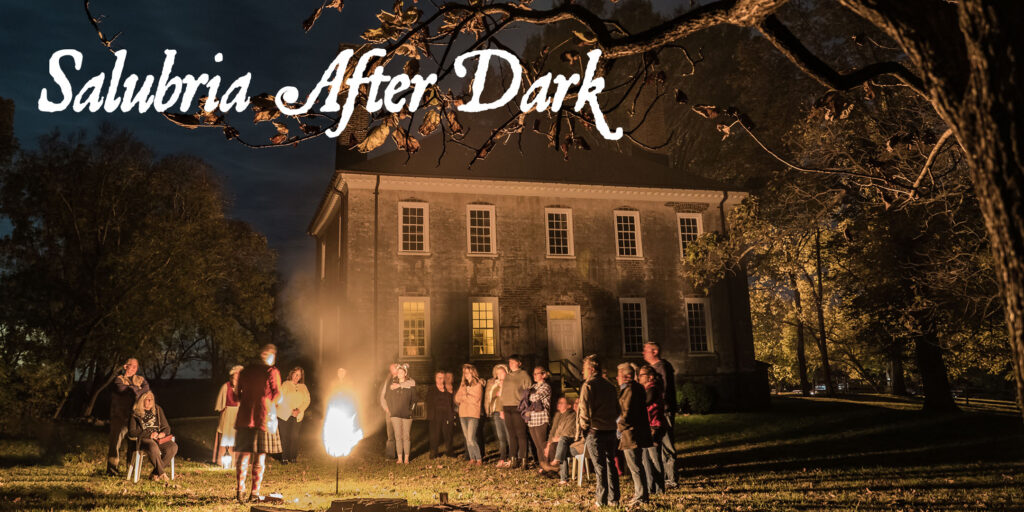 Come experience historic 1757 Salubria manor as never before as the Germanna Foundation hosts "Salubria After Dark," a special evening of professional storytelling on the grounds of Salubria, Culpeper County's oldest brick house. While the stories are NOT about Salubria, you're in for a spook-tacular event with several professional storytellers!
This event will be held on Friday, October 22, 2021 with entry times of 7:00 pm and 8:30 pm, and on Saturday, October 23 with an entry time of 7:00 pm. Tickets are required:
Buy Tickets for FRIDAY  Buy Tickets for SATURDAY
How this event works:
Tickets are $15 per person and are sold ONLY through EventBrite.com (click above buttons to go there).
Guests will be divided into three groups of 20 and will be led by a Germanna Foundation staff member to three stops, where everyone will be greeted by a storyteller.
The tour will last approximately one hour.
Parking is free and on site.
Tour goes on rain or shine!
Tickets are non-refundable unless we need to cancel due to Covid, then we will issue refunds.
Salubria is located at 19173 Salubria Lane (off Route 3/Germanna Highway) in Stevensburg, VA.
Most of the event will take place outside where masks are not required but we recommend social distancing. Masks will be required inside any building.
Disclaimer: This event is recommended for children 13 and up as some of the stories may not be suitable for young children.
__
According to the National Storytelling Network, storytelling is the interactive art of using words and actions to reveal the elements and images of a story while encouraging the listener's imagination. We are honored to have these professional storytellers who have worked with Colonial Williamsburg come to Salubria for this 'spook-tacular' event where they will tell stories which will fright and delight the young and old alike:
Darci Tucker tells in schools across the country and shares festival stages with some of the best-known storytellers in the nation. Darci has told at the National Storytellers Conference and regularly appears in the "Stories That Make a Difference" benefit concert series.
Gayle Turner has been telling stories since they were called lies. Appearing on stage for over 60 years, Gayle revels in sharing personal stories as well as tales from literature and history. He is the Executive Producer of The Storytellers Channel. Gayle currently has the honor of serving as President of the Virginia Storytelling Alliance.
Sarah Brady is a storyteller, actress, and writer. Her experience in the arts started at an early age and continued throughout high school and college, where she earned a B.S. in speech education and an M.A. in interpretative speech. She taught communication, acting, and interpretative speech for six years at the college level. Sarah's acting credits include such roles as Nurse Kelly in "Harvey," Perdita in "A Winter's Tale," and Lady Macbeth in "Macbeth.net."